Hanna Andersson
Brand Writer
In October 2017, I joined the creative team at Hanna Andersson as a digital copywriter and have since become the head writer of all branded content. I write and oversee Hanna's storytelling across all channels, working with the Creative Director to develop our distinct brand voice.
Over the last twelve months, I have partnered with our Creative Director to change Hanna's fundamental approach to storytelling in order to adapt to a new generation of customer. As Brand Writer, I have shifted our voice away from that of a traditional retail company to align with our true identity as a modern brand that celebrates every type of family and every imperfect moment of childhood.
Here is a small sampling of my work at Hanna.
Over the last year, I've taken on the responsibility of writing and directing original video content, including the video above. I also adopted this script as a starting concept for our autumn brand book (see below) as well as a coloring book available in retail stores.
Seasonal Campaigns
As Brand Writer, I also partner with the Creative Director and work cross-functionally to pitch, present and review each seasonal brand campaign with the Vice Presidents, CDO, and CEO as well as merchandising and eCommerce stakeholders. Part of the way this brand campaign is dispersed is through paid search advertising and social media advertising. Here are a few of our recent advertisements, demonstrating our new, contemporary voice.
Seasonal Brand Book
Last March, I was asked to write our autumn brand book based on the script I'd written for the video above. It was my first catalog, and I've since fallen in love with writing for print. There is something so special about working with your team to create something beautiful, then being able to hold it in your hands at the end. I now write all of our printed marketing materials and brand books.
Mailers and Marketing Materials
Site Content
As Brand Writer, I am responsible for writing and editing all digital content for HannaAndersson.com, all of which is uniquely created approximately three times per season with weekly updates based on business performance, trend forecasting, + brand storytelling.
Introducing: Baby Registry by Hanna
I had the exciting opportunity to collaborate with the Hanna creative and eCommerce teams to launch our premiere online registry! After months of hard work, it was so invigorating to share this with our loyal customer base. Every word was carefully considered, from the copy that accompanied each page of UX design to the way we introduced new users to #hannababy favorites loved by generations of customers. Here are a few small samples from this enormous project!
Brand Emails + Product Announcements
I am also responsible for creating the messaging behind all branded, promotional, retail, and outlet emails each week, ranging from 7-12 sends per week which reach on average between 675,000 and 900,000 customers. These are just a few of my favorite emails and product launch announcements from the last year.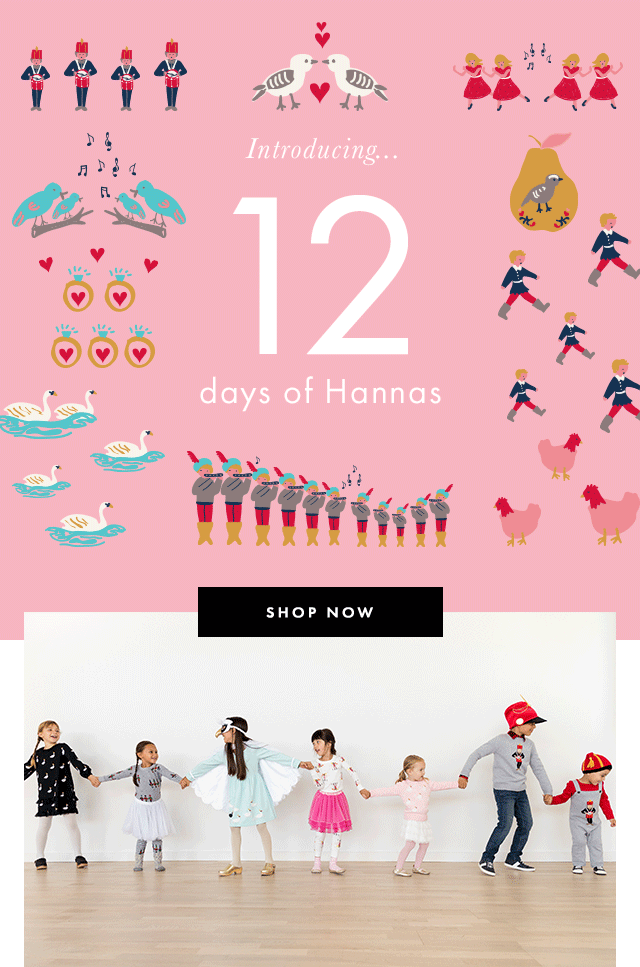 Promotional Content
Maintaining brand identity and integrity while promoting your latest and greatest sales can be a challenge. I am proud of the content my team and I have created together to get our customer excited about the promotion, all while staying true to the Hanna brand.